ABOUT US
:
MEET THE TEAM
Great ideas happen when we come together, and at Avenida Naperville, our team of experienced professionals believes it's the only way to set our community apart. Because here it's about bringing together every dream and detail to create the ultimate active adult lifestyle. It's gathering stylish apartment designs and elegant community spaces. Mixing services and convenience with wellness and luxury. And it's uniting the active, social and empowering lifestyle you want to lead with a city that's built for living well.
Together, we're crafting a 62+ community unlike any you've ever seen. Take a look below to see what we're all about.
×
Michele
Clemen
Executive
Director
As executive director, Michele oversees and guides the day-to-day functions of Avenida Naperville and leads community sales and operations. In addition to her 20 years in the senior housing industry, Michele has been active in the Naperville community since moving to the city in 2004. She is a member of the Naperville Jaycees and The Rotary Club of Naperville. From 2013 to 2019, Michele served on the City of Naperville Housing Advisory Commission, acting as a chairperson from 2015 to 2019. Additionally, Michele has served on the board of directors for Naperville Community Television, Channel 17 and is the current president.
Michele, her husband, Adam, and their dog live in the neighboring Cress Creek subdivision, where Michele is a member of the board of directors of the Cress Creek Homeowners Association.
Michele has a Bachelor of Science in health communications from Grand Valley State University, and she earned her MBA from North Central College.
×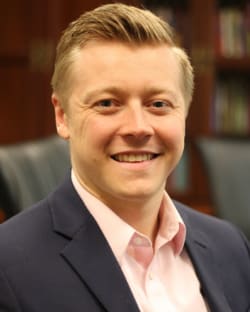 Tom
Vander Velde
Sales &
Marketing
Director
Tom Vander Velde brings many years of experience in the senior living industry to his role as sales and marketing director at Avenida Naperville. He has a strong passion for helping people transition from homeownership as they start a new life in a senior living community. The part of his role Tom enjoys the most is learning every individual's unique story; in fact, Tom is often referred to as an "old soul" because he makes a concerted effort to learn from older generations and applies their wisdom to his personal life. While he may seem wise beyond his years, Tom's energy and enthusiasm—coupled with his dynamic personality—truly put people at ease.
Tom holds a Bachelor of Science in health science with a minor in psychology. In his spare time, he enjoys being active in his church and traveling.
×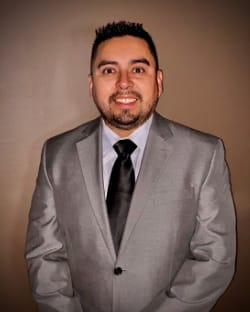 Alan
Reyes
Maintenance
Director
Alan Reyes is the maintenance director at Avenida Naperville. Alan was born in Chicago and raised in Berwyn, IL. He enlisted in the U.S. Army in 1999 and is still enlisted in the Illinois National Guard; he is a few months shy of his military retirement. His job as a diesel technician and rank as sergeant are just titles. Alan completed four tours of duty in the Middle East, totaling 46 months overseas, and served his country proudly. Upon his return, he spent many years working in the senior living industry as a maintenance director at different communities. Alan is a volunteer and supporter of local police departments, school districts and non-profit organizations that benefit the youth of Aurora. Alan's passion is helping people, and at home he has a loving wife and five children.
×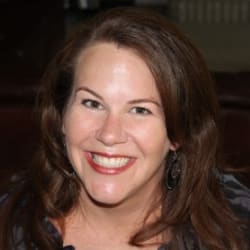 Carrie
Tuma
Move-In
Coordinator
As Move-In Coordinator, Carrie focuses her time and talent in assisting new residents as they navigate their "best move ever." Carrie began her career in the senior living industry in 1996. Her love for working with older adults stemmed from volunteering at a skilled nursing facility while in high school. Carrie lives in Naperville with her husband, Joe; their two teenage daughters, Callie and Caelyn; and their golden whoodle, Carson. In her spare time, she assists small businesses with their web design needs. Carrie has a Bachelor of Science in Psychology with a minor in Gerontology from Illinois State University. She also has a Master's degree in Human Service Administration from National Louis University.
×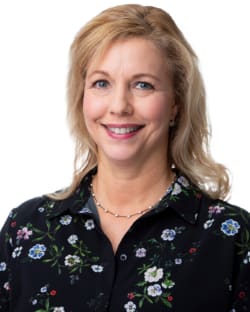 Kathy
Fezzuoglio
Sales &
Marketing
Director
Kathy Fezzuoglio, a lifelong Chicago area native, has been in the senior living industry for 12 years. Kathy is passionate about helping others live their best lives and is excited to join the team as our sales and marketing director. She is a member of the Central DuPage Kiwanis Club and an active member at Wheaton Church. Together, Kathy and her husband, Joe, have one daughter who is studying nursing at St. Louis University. Dog lovers at heart, Kathy and her family rescued a basset hound and chocolate lab. Kathy loves the outdoors, and when she isn't working, she enjoys playing tennis and golf and going hiking and camping.
×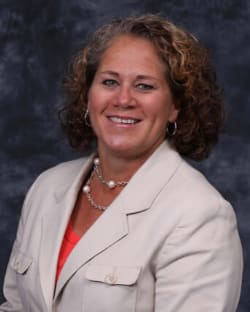 Jane
Abe
Residential
Enrichment
Director
With a diverse background in business, health and fitness and event planning, Jane brings a wealth of experience and skills to Avenida. As a fifth-generation resident of Naperville, Jane has worked closely with numerous non-profit organizations, church programs and reunion committees—assisting with her alma mater's fundraising efforts. As a long-standing employee of the Edward-Elmhurst Health and Fitness Centers' aquatics and customer service departments, she has been a leader in instructing and supporting in a variety of areas including cardio and interval training, arthritis, Parkinson's, multiple sclerosis, fibromyalgia and yoga. Jane's passion is to create a fun, invigorating and obtainable environment while bringing smiles to participants' faces. Prior to working at Avenida Naperville, Downers Grove and Aurora Chamber of Commerce, Jane was the director of health and wellness at the Heritage YMCA. Jane believes an active mind, body and spirit enhance your life and create longevity, and she enjoys helping others find their balance and improve their overall well-being. Jane holds a BA in business administration with a minor in health fitness from Hope College in Holland, Michigan.
×
Hyacinth
Waranimman
Business
Office
Director
Hyacinth Waranimman is the business office director at Avenida Naperville. She graduated from National Louis University and brings over 20 years of experience in the senior living industry, having served in a variety of roles and settings. In her most current role as a nursing department coordinator, she was responsible for scheduling a staff of over 40, keeping the department within budget and making sure all policies and procedures were being followed for state licensure. In her free time, Hyacinth volunteers at the high school her children attend. She loves to travel and spend time with her three children, husband and dog, Jax, and also dabbles in art and calligraphy.
×
Michael
Murphy
Project
Manager
Michael is the vice president of construction and development at Avenida Partners. He brings over 20 years of experience in real estate construction, development and consulting. As project manager for the Avenida Naperville development, Michael's responsibilities encompass the entire development process.
MMurphy@AvenidaPartners.com | P: 949-662-6604 | C: 949-892-0864