Awards
Avenida Partners' history, expertise, and dedication to developing the new generation of active adult communities set us apart as leaders in the industry. Listed below are some of the recent recognitions the Avenida team and our communities have received from our colleagues and peers.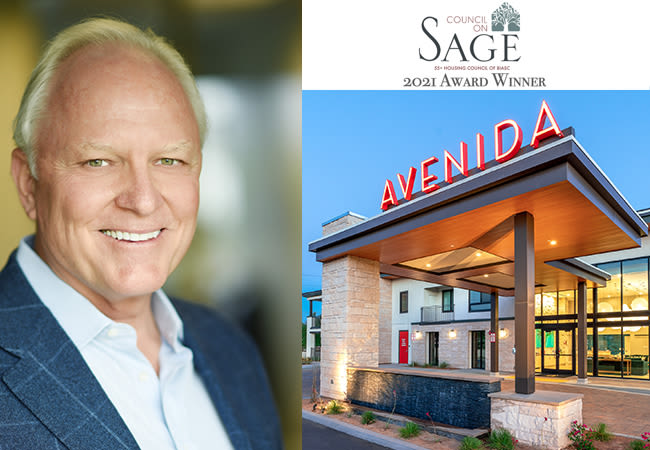 2021 SAGE Awards
October 2021 - Co-Founder and Managing Partner Robert "Bob" May was honored as Person of the Year at the 27th Annual SAGE Awards on October 21, 2021. The SAGE Awards—hosted annually by the Council on SAGE of the Building Industry Association of Southern California—honor the innovative professionals, projects, and programs that have contributed to the enhancement of life for 55+ active adults in the Western United States. Bob May was selected as Person of the Year due to his ongoing innovation within the growing Active Adult rental sector, as well as his generosity in sharing research and best practices with industry peers.
Additionally, Avenida Palm Desert was honored with two awards: Best 55+ Active Adult Market Rate Rental Community and Best 55+ Lifestyle Program. Entries for the former category were evaluated by judges according to several criteria, including design/appeal, creativity, overall execution, and amenities/services. Entries for the latter category were evaluated according to the criteria of creativity/appeal, target market, benefits, and success. Avenida Palm Desert's recognition in these two categories reflect the dedication and talents of the Avenida Partners team in developing a unique, unmatched community that offers residents both an extraordinary building to call "home" and an enriching lifestyle to enjoy every day.
2021 Future Leaders Award
August 2021 - Nikki Jo Olsen, Corporate Resident Enrichment Director, has been selected as one of the winners of Aging Media's 2021 Future Leaders Awards. Nikki Jo is being honored in the category of "Senior Housing," along with other high-performing individuals under the age of 40. "This group of professionals represents the critical skills of tomorrow's health care leaders," said Aging Media Co-Founder George Yedinak. "Each of these leaders has the professional experience to help their organizations deliver better experiences and outcomes."
Nikki Jo's recognition is a result of her role in developing and executing Avenida's 5 to Thrive wellness program. Under her guidance, resident engagement in Avenida programming is exceeding participation benchmarks for the senior living industry. According to ICAA/ProMatura Wellness Benchmarks National Report, the participation benchmark for Independent Living communities is 55% participation in at least one activity per month. Avenida communities all achieve at least 80% participation each month, with some communities achieving over 90% participation.