Throughout this past year, the Baby Boomer generation has made a significant push to join social media platforms and adapt with ever evolving technology. The pandemic helped to refine perspectives as many were forced to find a sense of normalcy when connecting with family and friends through social platforms. Those who were unfamiliar often fell into a sense of social isolation. This was a wake-up call for those who had never put any effort into learning about social media and our technology driven world.
Aside from the pandemic, there has been a significant amount of research that supports social media platforms providing benefits to those in the older adult demographic. One study mentions, "the benefits of social media use at older ages extend beyond mere social engagement, and into other domains of everyday well-being," (Quinn, Kelly. Cognitive Effects of Social Media Use: A Case of Older Adults). Not many people realize that just by engaging with these platforms, you are continually "improving in dimensions of executive function, such as episodic memory and processing speed which is ultimately beneficial to your cognitive health," (Quinn, Kelly. Cognitive Effects of Social Media Use). Even when it comes to viewing the various news feeds, advertisements, stories, direct messages etc., social media invokes inhibitory processes which can increase your cognitive efficacy.
Sometimes a lack of digital skills can hinder one's confidence enough to prevent them from engaging in technology and social media platforms altogether. An appealing aspect of our communities is that we want all of our residents to Live Confidently—a dimension of our Five to Thrive program. Residents can sign up for technology classes taught by experts in the field which gives them the ability and confidence to engage online.
Statistically speaking, it is clear that many older adults are heading in the same direction as younger generations in respect to social media. A recent study from Pew Research stated that 69% of adults between 50-64 and 40% of those above 65 use social media. This does not include the fact that 41% of Facebook users are 65+, and in the later months of 2019, Statista.com identified that 58% of adults above the age of 56 were using YouTube.
Though many older adults flock to Facebook as their daily dose of social media and social connection online, "according to Global WebIndex, Baby Boomers are the fastest growing age group on Instagram and approx. ¼ of Baby Boomers use social media to research info about brands, products, or services," (mcknightseniorliving.com).
The number of older adults using social media is on the rise. They are easily catching up to younger generations because of the significant benefits to joining online platforms for socialization.
Reach of leading social networking sites used by Baby Boomer and Senior online users in the United States as of 3rd quarter 2020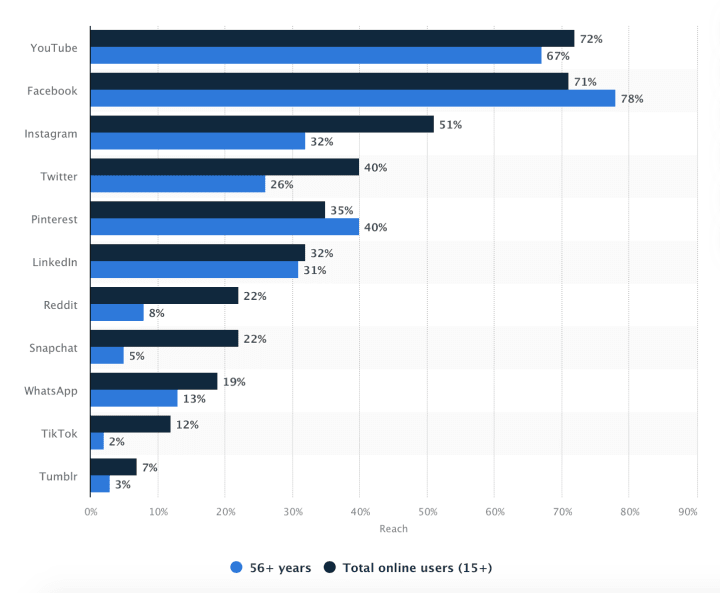 https://www.statista.com/statistics/309166/boomer-senior-social-networks/
With an increasing number of adults using social media, researchers are seeing a drastic improvement in their lives from a wellness standpoint. "Successful aging is clearly associated with high levels of physical and cognitive health, and social engagement. Social networks provide multiple sources of social support," (seniortechclub.com). From this, it is our hope that more adults explore the online universe and in so doing, improve their overall wellbeing.